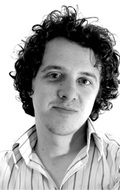 I'm Alex Milway, thanks for visiting the official site of the Mythical 9th Division.
The yetis who make up the Division – Albrecht, Timonen and Saar – are very close to my heart. They can be fun, brave, and occasionally fearsome. They let me travel round the world, visiting far-off places and meeting strange creatures without me needing to leave my desk.
But why would I choose yetis? Well, that's quite a long story, which has a lot to do with my cat Milo and his litter tray, but I'd probably best leave that for another time. What I will say is that they were instantly fun to draw and write about. As creatures go, they're particularly hairy, and if you're someone who likes to draw, then you'll know what fun it is to draw hairy things.
As for me, I started out as an artist – a painter to be precise. My Granddad always told me I could paint his house if I liked, but that wasn't quite what I had in mind. However, when I left art school I realised that I wanted to be an animator, making films like Hayao Miyazaki and Nick Park, and while aiming for that I found that I liked to write and illustrate the stories I'd created.
I loved to make things (anything, if the truth be told) and books became the ideal object that I could create without much money or equipment. It was just me, my imagination and a pen, pencil and paper – alongside quite a few erasers.
The Mythical 9th Division books come hot on the heels of my Mousehunter trilogy.
You can find out more of what I'm up to over at my blog, and I'm also available for school and library visits.